I am excited to welcome author Amanda Bonilla to Literary Escapism today. Amanda is celebrating the release of her second Shaede Assassin novel, Blood Before Sunrise.
What you can't see can kill you…

For months Darian and her Shaede guardian Raif have searched for the Oracle who attempted to overthrow the Shaede Nation—and kill Darian in the bargain. But now that they've finally found the half-crazed Oracle, for their efforts they are granted a possibility too painful for Raif to imagine, and too enticing for Darian to ignore.

Darian is determined to reunite Raif and the daughter he thought was dead, but her mission quickly proves dangerous when her lover Tyler is almost killed. And when a brooding and mysterious Fae warrior offers his guidance—at an extraordinary price—Darian finds herself willing to risk everything. As her single-minded hunt turns into an obsession, and she and Tyler grow further apart, Darian finds herself caught between the man she loves like a brother, and the man whose love she can't live without…
_____________________________________________
Top 5 Favorite Summer Olympics Events
Thanks so much to Literary Escapism for hosting me today! It's great to be here!
There's only one thing that could tear me away from a summer reading marathon, and that's the Olympics! It was hard to break this post down to focus on just my five favorite events, because, honestly, I plan to watch as many as I can. I'm a sports fan through and through and the Olympics are great for someone like me because I get two weeks' worth of sports diversity. The thrill of victory, the agony of defeat, and all that… So without further ado, here are my Top 5 must-watch events for the 2012 London Summer Olympics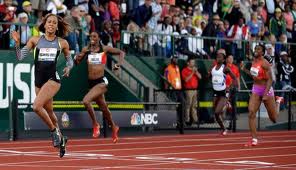 5. Track & Field
Runners astound me. The way they push their bodies, their endurance, their speed and dedication. I get winded just watching! The field events are just as fun to watch. I'm fascinated with pole vaulting. I mean, how do they do it? I'd fall flat on my face.
4. Men's Beach Volleyball
I think this one's self-explanatory. ;) Who doesn't want to watch four guys, all sweaty and covered with sand spiking the ball over the net? Men's volleyball is the reason women went all swoony over Top Gun in the 80's. Oh, Val Kilmer, you were soooooo sexy in that movie! But honestly, I love volleyball as a sport and I plan to watch both the beach and indoor venues. The men's events are so fun to watch. Their vertical jumps are insane. Volleyball nets are tall, and to see these guys blocking and hitting with their torsos skimming the top of the net is just plain impressive! And the matches are super-fast. These guys have serious speed on the court!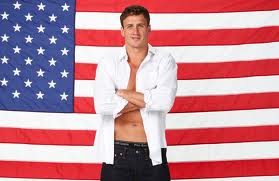 3. Swimming
I can sum up why I want to watch swimming in two words: Ryan Lochte. Just kidding, but he is super yummy! I love to swim. If I could, I'd swim all day, every day. During the last Olympics, they did a feature on Michael Phelps and how many calories he has to eat a day (because swimming burns a TON of calories) and for that reason alone, I'd like to be an Olympic Swimmer. I could eat all the time! LOL.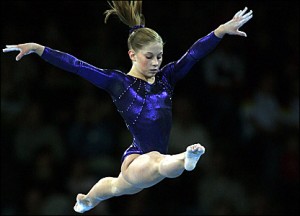 2. Gymnastics
What girl didn't wish she was Mary Lou Retton in the 80s? Or Kerri Strug in the 90s? I used to jump on our trampoline, flipping and cartwheeling, while pretending that I was performing the gold-medal floor routine. And gymnastics is a sport that you don't have to be six-feet tall to excel in. A fact that gives little five-footers like me hope. Short people have better centers of gravity. Ergo, we have the potential to be good tumblers. ;) I'm always in awe of a gymnast's ability to defy gravity, flip and twirl, and balance on a four-inch wide beam.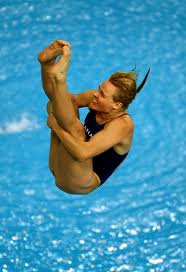 1. Diving
Diving is by far my favorite summer Olympic event. The highest place I've ever dove from is our dock, and once, I jumped off this short little cliff at one of the popular diving spots around the lake where I live. But that was more of a feet-first-hold-your-breath-and-try-not-to-scream leap. Not a graceful arching swan dive that didn't make a splash when I hit the water. Diving is such a precision sport. And wow, those platforms they dive from are TALL. I love every diving event: platform, springboard, synchronized… Yep. I'll DVR them all so I don't miss a single divetastic moment. I think if I was going to be a diver, my specialty would be springboard. Like I said, those platforms are TALL, and I'm kind of afraid of heights.
Do you plan on watching the Summer Olympics? Do you have a favorite venue or do you love them all?
______________________
Meet Amanda Bonilla!
Amanda Bonilla lives in rural Idaho with her husband and two kids. She's a part-time pet wrangler, a full-time sun worshipper, and only goes out into the cold when coerced. She loves the outdoors, black clothes, pink appliances and thinks junk food should be a recognized food group. In the summer, she can be found sitting by the lake, enjoying the view from her dock.
Contact Info
Website: www.amandabonilla.com/
Blog: Swords Boots and Shadows
Social Media: Facebook | Twitter
Want to purchase Amanda's novels?
Shaede Assassin
Shaedes of Gray at Amazon | Book Depository
Blood Before Sunrise at Amazon | Book Depository
Make sure you check out the rest of the The Darkness Before Dawn Blog Tour, which has already had stops at Addicted2Heroines, Red Hot Books, Vampire Book Club, Paperback Dolls, Wicked Little Pixie, Tote Bags 'n Blogs, My Bookish Ways, The Qwillery, Smexy Books , Yummy Men and Kick Ass Chicks, Seeing Night Reviews, The Bookaholic Cat, Rabid Reads, All Things Urban Fantasy and Linda Poitevin's Blog.