Amber has been showing me all these new artists so I thought I would spotlight some of the ones that I already like as well as add them to the side panel. I'm always looking for new artists, especially ones I might be able to find at Allposters so I can decorate my new office, so if you have anyone you want to recommend, let me know.  I've been a fan of these artists for awhile now and they haven't disappointed me yet.
Jen Delyth – She's more of a Celtic artist than fantasy, but I really like her work. I actually went out and bought her wall calendar one year even though I don't use them. There's just something about her work that strikes a cord in me.
Jonathon Earl Bowser – I have loved this guy for awhile now. He was probably my first real fantasy artwork addiction that my best friend got me hooked on. There is just something about his work that makes it seem like there really are fairies at work in the world. That even though we can't see them, there are these guardian angels for the earth. I love his work.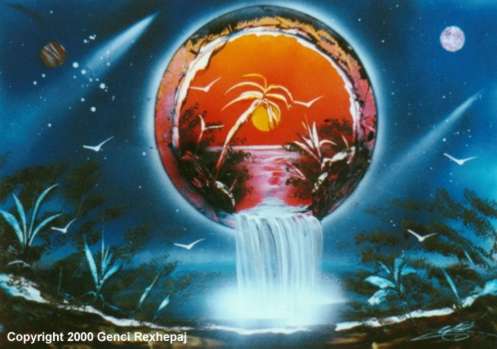 Genci Rexhepaj – I've seen some really great works by Mr. Rexhepaj, but I have yet to find him online. I know he's there, but he's playing hard to catch so I really don't have a link for you other than a google image search. I'm a sucker for landscapes and he comes up with some pretty magnificent ones.
James Wappel Studios – Another artist with a lot of Celtic influence that is simply find fun to look at. Some of his pieces are fun and complex that it takes a minute to really get a grasp of it. I'm having a hard time finding him online, even as a google image search, but he's one I've had my eye on for awhile and once I can get his web address, I'll be sure to add it to the side.
Josephine Wall – If you want something feminine and airy, then this is the site to visit. Her artwork is amazing, but some of her work is a little girly, but I actually like it because it is. The elements are one of the key focuses in her work and she merges her fairies into the element instead of merging the element into the character. One thing I do love about her work is there is such detail that you can look at it for a few minutes and not see the same thing twice. She has so much going on, that it's almost too busy, but it all works well together and without it, something would be off.
Dan Dos Santos – He is the genius behind the Mercy Thompson covers. I adore his covers and after looking at his other work, I have determined that he is an amazing artist that I am going to keep an eye on. His entire collection is so clean and sharp with fantasy elements that it's breathtaking. Especially in this drawing, I love the fire work he has done and I don't know what novel this is, but I really want to go out and find it now. After a little searching, I found out it is Dead Reign by Tim Pratt. Guess what just got added to my TBR list.
Christian McGrath – He's the brain behind the Dresden novel (Butcher) covers as well as the Signs of the Zodiac novels (Pettersson). He is also the one who has done the Greywalker (Richardson) novels. I'm still looking through his stuff, but a lot of his work is making want to go find these novels he's done work for. The covers alone are making me want to read the novels and half the time that's the best way to find a really good book.
So those were the artists I've known for awhile. I've been able to get my hands on some of their work, but not everyone, although I think I'm going to try. However, I love a good piece of art as much as I love finding a new novel and here are a few artists I've come across that have some potential: