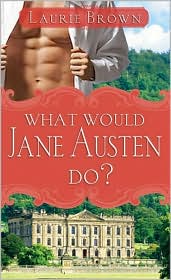 I have to say, I was pleasantly surprised with What Would Jane Austen Do? by Laurie Brown. I generally shy away from anything Austen related since I tend to encounter the Austen fanatics when I talk about her, but this was good.
Surely Jane Austen would know how to handle such a rake…

From the author of Hundreds of Years to Reform a Rake, a new time travel romance featuring a modern day career woman swept back in time to Regency England, where she thwarts a Napoleonic spy, chats with Jane Austen, and falls in love with a notorious rake.

Eleanor is a costume designer in England for the Jane Austen festival, where her room at the inn is haunted. In the middle of the night she encounters two ghost sisters whose brother was killed in a duel over 200 years ago. They persuade her to travel back in time with them to prevent the duel. Eleanor is swept into a country house party, presided over by the charming Lord Shermont, where she encounters and befriends Jane Austen. But there's much more to Lord Shermont than the ghosts knew, and as Eleanor dances and flirts with him, she begins to lose her heart.
It had a very simple story that not only worked well, but completely sucked me in. Set during the Regency era (which I found out is early 1800s), our heroine is thrown from her present day into the middle of a country ball where her favorite author, Jane Austen, will be.  Thankfully, her new travel plans are not a complete shock since, what she thought was a dream, two ghosts came to her for help.  I'm a fan of time travel novels, only when they are done well and this one definitely was.  While Eleanor was taken back in time, she was placed in an era she was familiar with and was able to adapt to the situations – mainly by thinking What Would Jane Austen Do? A lot of what can make or break a time travel novel is the reactions of the main characters and Eleanor not only reacts well, but she doesn't give away the idea that she isn't from the time they are currently in.  I also have to like the twist the ghosts added at the end to one of the characters Eleanor encounters.  I'm not going to give what away, but I like how this individuals' fate is played out and we're not left wondering what happened after the conflict ends.
As for the plot, not the most original – a napoleon spy being hunted at a ball – but the story was engaging and the romantic exploits entertaining enough that it didn't matter.  We were definitely suppose to focus on the relationships being developed rather than the espionage going on in the background and I can't say that was a bad thing.
Overall, this was a pleasant surprise and I would definitely read another novel by Laurie Brown.  Her characters were engaging, the story flowed well and we're actually given a HEA, but not one totally expected.  For anyone looking for a good Regency era romance, I would strongly suggest checking this one out.